I'm always nervous when I have to invite people to an event I'm planning. I don't know why. I'm surrounded by people I love and who love me. But for some reason I always have this perpetual fear that no one will show. Considering my wedding is short notice and many people I have made plans for the summer, my fears are somewhat legitimate. Already two of my closest friends can't attend. 😦 One is attending her college roommates wedding and the other is on a cruise, so its not like they have plans that can easily be changed. Still I feel a strange calm because I feel like whomever is meant to be at my wedding will be there and that is good enough for me. Still I hope they send a gift…LOL! Here are ALL of the invitation samples I ordered, I will do another post with the finalists. Each are price by 100. This doesn't even include all of the invitations I've looked at, just the companies that sent free samples. I don't think I will buy from a company that does not send samples. From what I've seen they do not pass the savings of not sending samples onto the customer, plus most do not have a 'no questions asked' policy about returning invitations, which I think is ridiculous. I understand that they are customized but if you are not going to give me the opportunity to view the invitations in person at least allow me to return them if I am unhappy.  My colors are Pink and Grey with accents of Air Force Blue. When possible I ordered the samples in my colors. The pictures I selected are from the websites just because they're better quality but I copied them in the color and style I was sent.
Magnet Street – Whom My Soul Loves – $380                                     Magnet Street – Antique Filigree – $370

Magnet Street – Classic Lace – $170

Magnet Street is a pricier invitation company for someone on a budget but they do have a nice selection. Their "bargain" invitations like the Classic Lace are still expensive for what you are receiving, when I received the Classic Lace sample it was cheap look and not worth nearly $2.00 on its own. I knew I would have to embellish it before I was satisfied which defeated the purpose of the lower price. I did love the Antique Filigree invitation though.
 Exclusively Weddings – Lace Couture – $189                               Exclusively Weddings – Victorian Bliss – $199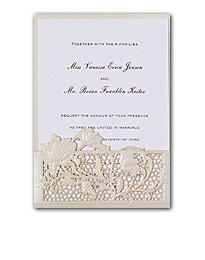 Exclusively Weddings – Vintage Love – $59.95                          Exclusively Weddings – Pastel Passion – 129.95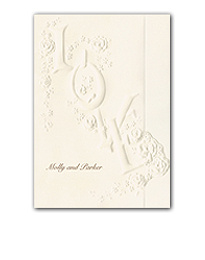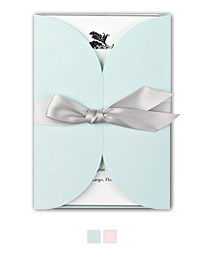 Exclusively Weddings – Ascot Lace – $169.95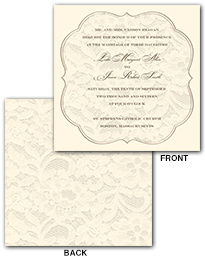 The Lace Couture and the Pastel Passion invitations are my favorite from this set of samples. They are still in the running. On frustration with these invitation companies are that they do not offer enough customization options for the price they charge. Exclusively Weddings is actually very reasonably priced for what you receive and thus I wouldn't mind embellishing these invitations to match my vision.
B Weddings- Classic Floral- $309                                                              B Weddings – Pretty In Pink – $374.00
B Weddings – Romantic Couture with Pearls – $309.00                  B Weddings – Elegant Lase Cut Wrap – $397.00
B Weddings – Silk Embossed Lase Cut – $2.86
B Weddings was the most expensive and yet my favorite of the invitation sets. I even went to Etsy to see if I could find someone who could make a version of the Elegant Lace Cut. I did find a vendor who was willing to make it for about $2.60 a piece which isn't bad but she is in Korea so the shipping will be expensive. I'm still considering it.
Wedding Paper Divas – My Beloved's – $189                         Wedding Paper Diva's – Engraved Love – $199
Wedding Paper Divas – Classic Devotion – $349                            Wedding Paper Divas – Lithe Lace  – $189
I was very disappointed in Wedding Paper Divas, especially since it was recommended by different people. They lacked in customization options. I would often find the color I wanted, but not the ink, then the style but not the color. I even called the customer service. To their credit their representative stayed on the phone for about 40 minutes with me but he could not find anything that matched my colors or my them. We both seemed exhausted and frustrated with the company's lack of options.
Ann's Bridal Bargains – Lacy Romance Petite – $99.99       Ann's Bridal Bargains – Vintage Appeal – $131.99

Ann's Bridal Bargains – Ecru Seal and Send – $ 131.99
The American Wedding – Greta – $159                                           The American Wedding – Pearlized Love – $169
The American Wedding – Rose Bouqet – $59.95                      The American Wedding – Bridal Blessings – $159.00
The American Wedding – Perfect Match – $139
American Wedding has some great cheap options. Some look cheap though so order the samples! I found many invitations I could embellish to match my vision but again the lack of color and style options was stifling.
If their is any truth you have to swallow as a budget bride early and often is that options are not open to your price range…